These pictures are of Candy who is our blind poodle.
Candy was purchased to show, but had birth defects
All of our companion canines are spayed or neutered.
Please know that I've come a long way since the beginning of this story.
By the way, there is No such thing as a "teacup" poodle.
In 1995, we lost a very small toy (Exotic Candy) in a devastating accident. We had seen lots of advertisements for teacups.
We didn't know any better. I began calling around the country to find one. I found a great many.
But, we were also looking for a chocolate female. Now there are two great puppy mill terms, teacup and chocolate.
I found a Lot of teacups. I found a chocolate male teacup, but had to put down a deposit to be second in line for a chocolate female from this breeder.
He guaranteed he would have one in the next year. So, I sent a great deal of money to him.
I was assured that this was a health guaranteed, quality, tested (for what I didn't even know to ask) teacup.
Of course, now I know there isn't any such thing. I was an ignorant fool who paid a great deal of money for nothing.
I ended up with a blind tiny toy who has no testing, the health certificates were never given to me, she is definitely AKC registered. She was a nice dark brown when we got her and was seeing from one eye.
That eye has glaucoma, and cataracts.
The other eye has microthalmia and cataracts.
One of these is her baby picture.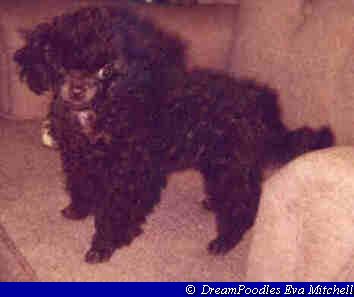 Now, according to the contract, I had recourse. According to Minnesota law, I had a lot of recourse.
The breeder offered to replace her when he had something else.
He told me that she would be put down as he couldn't use her for breeding if she was that defective.
She had already slept on my pillow and had a name and
of course, this breeder is no longer in business, so in reality I had No Recourse.
I wouldn't have returned her anyway to him.
We have this little girl, and love her dearly.
She weighed less than an ounce at birth (which is less than this page would weigh if you printed it). She shouldn't have been tube fed and encouraged to live. She had too many birth defects and was entirely too small.
But, the entire reason for her being was an advertisement for teacups, and an ignorant purchaser who put down a deposit for a chocolate female.
So, an irresponsible breeder bred an immature tiny bitch to an even smaller stud and when she had puppies that were too early and too small, he tube fed them so he could sell for the exorbitant prices he was asking.
There is the published poodle standard which calls for three sizes.
They are toy, miniature, and standard.
Poodles are better served by informing buyers of puppy mill terms and telling them to check out the VIP home pages for information on how to purchase quality poodles that are healthy.
See the links on my home pages to go to the Versatility in Poodles web pages.
The initial price I paid for this puppy was way too high, but since then the price has escalated.
The costs for eye treatment is expensive, but the biggest cost is on my heart.
She is here because I was ignorant, and there was a breeder who was irresponsible.
So, I am her keeper and will keep her as healthy and happy as I can.
She will be two in July of 1998.
We don't expect her to ever see five.
That is a lot of heart break.
The picture on the left was taken when Candy was a year old. The right is at about 18 months.
We are letting her coat grow out a little bit for scissor practice.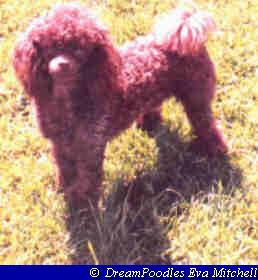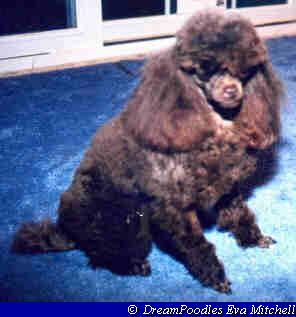 Update: 11/21/01
Candy is now Five.
She is totally blind now. Both eyes now have cataracts.
She has had several collapsed vertebrae now.
Her front paw was broken one day when I came home from work.
Everyone in the house was totally unglued over it and I raced her to the E-Vet.
We still don't know exactly how it was broken.
It never did heal quite right, even though she was in a cast for weeks.
She is walking on it.
We do grooming in stages now.
She isn't allowed to grow out anymore as she can't stand to be brushed.
She is still a pretty happy little girl.
She sleeps on my pillow every night.
I know we are on borrowed time and every time something breaks I wonder if it will be the time I have to let her go.
I do know that there will be a time that she hurts and the meds won't fix it.
The heartbreak doesn't end.

Update: 04/24/04
Candy is actually doing fairly well. She will be 8 years old in July.
She still sleeps on my pillow, plays with me every night.
She has her safe place in the kitchen while I'm at work.
She enjoys sleeping on her pillow, next to the refrigerator (warm from the motor?)
and in an ex-pen. She has food, and water and a potty paper for her convenience.
She jumps up to greet me as soon as I come home and demands to be picked up.
She is fed only foods that are good for her, no cheese or junk food.
She has severe arthritis.
She has not had any collapsed vertebrae in a very long time.
She can go outside on her own and bump her way around the fenced yard,
and knows how to find the door to come back into the house.
She plays with the puppies when I allow. It depends on who plays gentle.
I still know we are on borrowed time.
From time to time she will not be "well" and I'll wonder if it is time.
But, so far, she has always perked up after a few days and so we trudge on,
enjoying every day and hoping they will continue for a long time.




Update 12/5/2005
Back in the summer, when she turned 9, this little toy began to sleep pretty long hours.
She still wags her tail at me, and loves to play for a few minutes every morning and every night.
It is obvious that she is slowing down. Nothing has broken on her in at least 2 years.
She doesn't venture out into the yard now unless I take her and set her down and stay with her.
She does play for a few minutes with the baby toys when they are allowed to play with her.
Only the gentlest get that privilege.
Faith stands guard ready to squash anyone who begins to get rough with her.
She sleeps on her little bed right next to Faith on my bed.
During the day, when I'm at work, she is in an x-pen so she will be safe.
In the winter, she has a lamp with a reflector that helps her stay warm enough.
As soon as I'm home, she bark-barks for me to come pick her up for her loving.
She enjoys laying next to me in my chair.
We still enjoy each other, and I get hugs and kisses every day from her.





Update 4/17/2006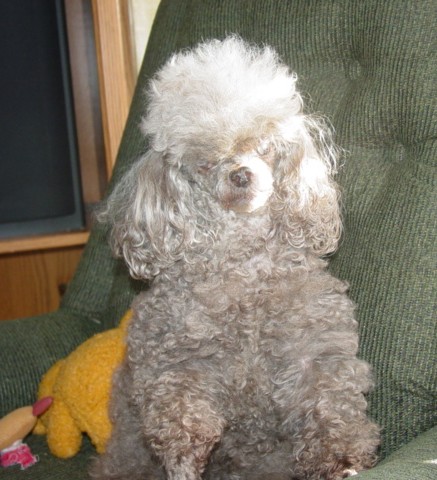 This weekend, Candy broke something again.
She has been subject to fractures, both vertebrae and her little feet.
They don't heal well. I've kept her weight light to try to stop these and it worked for several years.
Her last fracture was in 2003.
I had promised her that she would never be in this kind of pain again.
I put her on pain meds and prednisone and waited for her vet to be open today.
She went to the Rainbow Bridge this morning.
She can finally see, and can finally run and play.
I know Rusty was standing there waiting for her.
He loved her dearly.
I'll miss her so much.
Goodnight, sweet Candy.
I can't wait to kiss your sweet little face again.

Here is her pedigree:
Chocolate Drop Candy Kisses

If it should be that I grow frail and weak
And pain does keep me from my sleep,
Then will you do what must be done for this -
the last battle - can't be won.

You will be sad I understand
But don't let grief then stay your hand.
For on this day, more than the rest
Your love and friendship must stand the test.

We have had so many happy years,
You wouldn't want me to suffer so.
When the time comes, please, let me go.

Take me to where my needs they'll tend,
Only, stay with me till the end.
And hold me firm and speak to me
Until my eyes no longer see.

I know in time you will agree
It is a kindness you do to me.
Although my tail its last has waved,
From pain and suffering I have been saved.

Don't grieve that it must now be you,
Who has to decide this thing to do.
We've been so close - we two - these years,
Don't let your heart hold any tears.
(author unknown)