Presenting
AM CH Silverado Soars With Eagles (CHIC)

Bred at Silverado
Selected for Temperament, Type and Pedigree

Bred by: Barbara Curry
and Owned by: Eva Marie Mitchell and Kristine Wyncott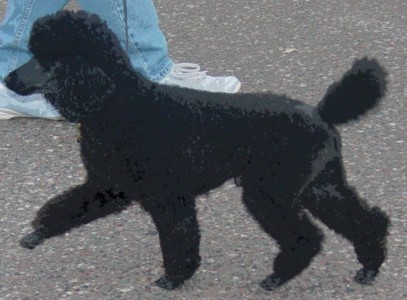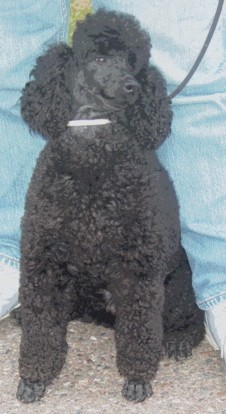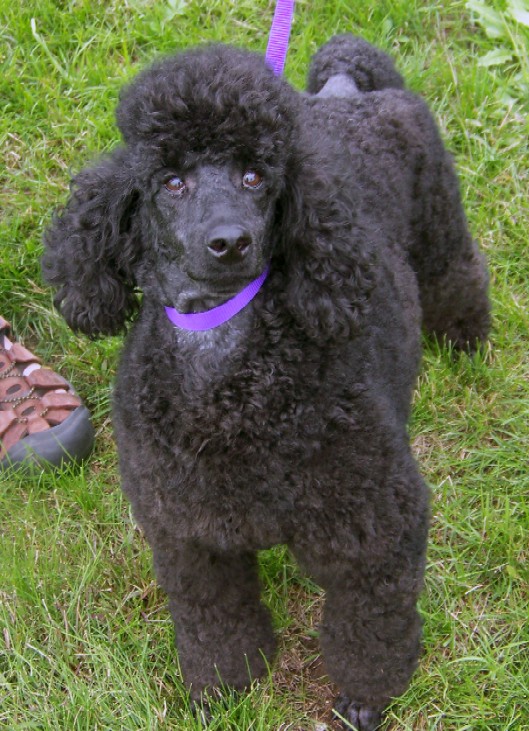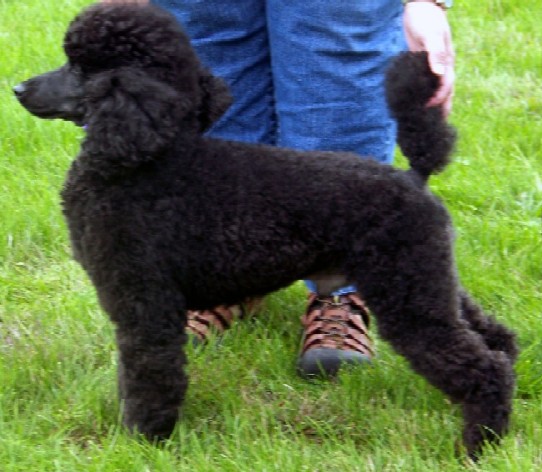 In the summer of 2006, I was contacted by a friend and told of a breeder
who had some dogs that needed to be rehomed.
These were champions and dogs of quality.
The owner of these dogs had unexpected family problems and
was trying to place the dogs in homes where they would
be valued and properly used.
They were not being offered to the highest bidder or to the auction.
I contacted a friend who took the female.
And then a friend who took one of the males.
Kristine and I went over and purchased the other two males.
One of them was Ch Silverado Soars With Eagles.
the other was Ch Aery Tucked Away at Azlynn.
Both were pedigrees that were of great interest to me.
We were quite pleased with both of the boys.
We began to complete the testing on these boys and made an appointment
for CERF and patellas immediately. Clayton already had his hips done
so we made arrangements for the rest of his testing to be completed,
which he passed with flying colors.
I began to have my own personal health issues and we elected to again place Clayton as well as my own Calvin as both were too big for me to pick up to groom at that time.
I had several people who were interested in this wonderful dog.
He was in my home and I had learned quickly to love him so it was a difficult choice.
I had a family who were small breeders who were members of Milwaukee Poodle Club.
They had excellent references from other members of the club and their dogs lived in their home instead of in a kennel.
When his new daddy came to get him, Clayton immediately got into Guy's lap and was "at home"
I hear from him quite a bit and he is being treated quite well.
He is a Top Producer, with 6 champions to date, including BIS winners.
He is a very happy boy.
To see Clayton now, go here
| | | | | |
| --- | --- | --- | --- | --- |
| PO-13671G25M-NOPI | HIPS | Oct 21 2004 | 25 | GOOD |
| POM-2196 | CERF | Jul 14 2006 | 48 | TESTED: 06 |
| PO-PA537/47M/P-PI | PATELLA | Jul 19 2006 | 47 | NORMAL - PRACTITIONER |
| PO-PRA543/48M-PI | PROGRESSIVE RETINAL ATROPHY | Aug 24 2006 | 48 | GENOTYPICALLY CLEAR FOR PRA |
Pedigree of: AM CH SILVERADO SOARS WITH EAGLES
AM CH SILVERADO SPEAKER OF THE HOUSE
AM CH DESHLER'S THE DEMOCRAT TP
AM CH PARADE PROTEGE
AM CH CAMPBELL'S GIFT TO PARADE
AM CH PENCHANT PALADIN
AM CH PARADE PRECIPITATION
AM CH PARADE PHACELIA
AM CH LE FLEUR BOOMERANG TO PARADE
AM CH PARADE PILLAGE AND PLUNDER
AM CH PARADE LEFLEUR LEATHER N LACE
PARADE ULTRASUEDE
AM CH PARADE GOES TO KNOLLAND
AM CH PARADE POLLY ESTHER
AM CH PARADE NOELLE TROY LE FLEUR
AM/AUS CH TROYMERE MAN AFFIRMED
AM CH PARADE PILLAGE AND PLUNDER
AM CH SILVERADO SYNTAX
AM CH SILVERADO SCENARIO
SILVERADO SHOWCASE
AM CH JAVARINO VON DER HUTZELSCHWEIZ
AM CH SILVERADO CENTER COURT
SILVERADO SWEET JOLIETTE
AM CH NOR-ZEL MR LUCKY OF MIDNIGHT
AM CH HOT TODDY OF SILVERADO
AM CH SILVERADO SAMANTHA
AM CH BRIERS DUNN & BRADSTREET
AM CH ROCHAMBEAU TALISMAN D'LLIONS
AM CH BRIERS TERIMA BLACK ROSE
AM CH VALI GIRL OF SHELEEN
AM/CAN CH MR. BOJANGLES-OF-SHELEEN

DOMINIQUE OF DUTCHESS

AM CH SILVERADO STATUS SYMBOL
AM CH SILVERADO SPECIAL EFFECTS
AM CH PERIWINKLE HOT COMMODITY
AM CH ROCHAMBEAU TALISMAN D'LLIONS
AM CH ROCHAMBEAU TIBIDABO AVENGER

ROCHAMBEAU'S BROWN-EYED GIRL

AM CH LYNGSO BRIERS BETTY BOOP
AM CH BRIERS RIGHT STUFF
AM CH BRIERS TERIMA HIT IT SHIRLEY
AM CH SILVERADO SHEER ELEGANCE
AM CH JAVARINO VON DER HUTZELSCHWEIZ
VORTON LANCASHIRE LAD
ANITA'S BIBI BLOCKSBERG
AM CH VALI GIRL OF SHELEEN
AM/CAN CH MR. BOJANGLES-OF-SHELEEN

DOMINIQUE OF DUTCHESS

AM CH SILVERADO SYNTAX
AM CH SILVERADO SCENARIO
SILVERADO SHOWCASE
AM CH JAVARINO VON DER HUTZELSCHWEIZ
AM CH SILVERADO CENTER COURT
SILVERADO SWEET JOLIETTE
AM CH NOR-ZEL MR LUCKY OF MIDNIGHT
AM CH HOT TODDY OF SILVERADO
AM CH SILVERADO SAMANTHA
AM CH BRIERS DUNN & BRADSTREET
AM CH ROCHAMBEAU TALISMAN D'LLIONS
AM CH BRIERS TERIMA BLACK ROSE
AM CH VALI GIRL OF SHELEEN
AM/CAN CH MR. BOJANGLES-OF-SHELEEN
DOMINIQUE OF DUTCHESS
Pedigree generated by www.breedmate.com