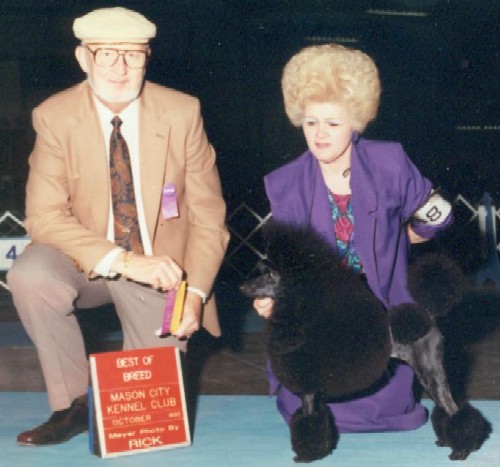 American Champion Designer's Fancy Dancer TP
3/14/1988 - 6/25/2002
Some of you may remember her in the 2000 Veteran's Sweepstakes.
I think she may have been the oldest poodle entered. She would have been 12 then.
The judge asked me if she knew what she was doing there as she was so old, and I told him of course.
She headed into the down and back with a straightforward trot, and carried herself proudly like a very courtly dowager queen with a great deal of dignity and when we came back she did a perfect stack for him.
He told me that it was very obvious that she remembered what she was doing.
The crowd was so very kind to cheer her that day.
She will not be forgotten.
Her traits live on in progeny from
Ch LeFleur Boomerang To Parade:
Ch Designer Kamann's Parade TP (Candace Hume's Macy)
Ch Designer's Academy Award TP (Oscar, sire to many champions)
Ch Designer's Emmy Award
Ch Designer Wm The Conquerer
Designer's Noble Bobbie McGee.
and from Ch Parade Kiss and Tell:
Ch Designer's Show and Tell (sire to my Angel), and
Ch Designer's See and Tell
She was originally owned by Rose Marie (Sue) Julig and came to live with
me when Sue was reducing the number of dogs in her kennel. She was a
lovely old girl, and was apparently a puppy back to Sue from one of her dogs.
Fanny was the grandmother to my Angel, Am/Can/Int Ch Tanzen Muffin's Dream CGC TP
PARENTS
GRAND-
PARENTS
GREAT GRANDPARENTS
GREAT GREAT GRANDPARENTS
GGG GRANDPARENTS
Am CH Designer Flashdance Man
Am CH Amulet So Divine Chaud Chien
Am CH Marsden Nightwatch Man
Int CH Marsden Black Vandal
Aus/Eng CH Lochranza Hells Fire
Am CH Black Delinquent Of Idadoun
Marsden Midnite Revel
Aus CH Tranchant Conman
Aus CH Beritas Bianco
Am CH Chaud Chien Divine Comedy
Am CH Loubelle's Hell Fire
Eng CH Lochranza Hell For Leather
Am CH Lochranza Tamura
Chaud Chien Cassonade
Am CH Tranchant Tallyman
Am CH Fairview's Flyer Fantastique
Beaucaniche Cupid's Raven
Am CH Chaud Chien Flash 'N Flare
Am CH Tranchant Tallyman
Am Eng CH Foreman Of Tranchant
Eng CH Tranchant Belle Sarah
Clarion Rebecca
Villa Russe Best Man
Am CH Cypress Hill See Here
Blackpool's Cher Babbette
Am CH Chaud Chien Ligne D'horizon
Am CH Tranchant Tallyman
Am CH Fairview's Flyer Fantastique
Loubelle's Cara Mia
Am CH Tranchant Freeman
Am CH Loubelle's Contessa
Goldara's Miss Personality
Am CH Roses Iridesence Of Goldara
Am CH Aizbel The Aristocrat
Am/Can CH Aizbel The One And Only
Am CH Aizbel Collector's Item
Chriscrest No Trumps
Am CH Aizbel Impetuous
Am CH Campbell's Clansman
Am CH Aizbel All About Angels
Am CH Bochats Ravishing Ruby
Bochats Just-A-Jigalo
Am Can CH Montfleuri Fennel Of Burdiesel
Chen's Brown Sugar
Bochat's Black Venus
Roses Wilcrest Miracle
Kastleshyre Stormy Camille
Am CH Cornleacroft Lady Bird
Am CH Argosy Anchorman
Can CH Highlane Bonhomme Richard
Am CH Dunwalke Lorenzo Of Montfleuri
Am CH Emmrill Lucky Charm
Argosy Alouette
Am CH Aizbel On Record
Aizbel Sunrise Arrival
Cornleacroft Alicia Alonzo
Cornleacroft Talk Of The Town
Can CH Marchione's Antonioni
Clay-Mar Glowing Ember
Marchione's High Society
Can CH Highlane Bonhomme Richard
Am Can CH Marchione Anna Maria
"If It Should Be"
If it should be that I grow weak,
And pain should keep me from my sleep,
Then you must do what must be done,
For this last battle cannot be won.
You will be sad, I understand,
Don't let your grief then stay your hand,
For this day more than all the rest,
Your love for me must stand the test.
We've had so many happy years,
What is to come can hold no fears,
You'd not want me to suffer so,
The time has come, please let me go.
Take me where my need they'll tend,
And please stay with me until the end,
I know in time that you will see,
The kindness that you did for me.
Although my tail its last has waved,
From pain and suffering I've been saved.
Please do not grieve, it must be you
Who had this painful thing to do,
We've been so close, we two, these years,
Don't let your heart hold back its tears."
Author unknown