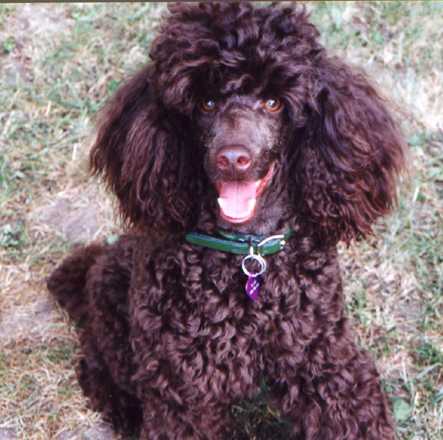 Dream Gift From The Angel
Bred by: Eva Mitchell
Owned by Phil and Joni Meboe
Snapshot photo taken when Gabriel was one year old in his new home.
Gabriel is a neutered pet, living a life of leisure with Phil and Joni and his good friend Max.
Gabriel was named for the Angel who is the announcer in the Bible.
He loves to play with his toys, is a brown clown, and lives up to his name, announcing any strangers who dare to come near their home.
Thanks to Phil and Joni for giving the Gabster such a good home.



PARENTS
GRAND-
PARENTS
GREAT GRANDPARENTS
GREAT GREAT GRANDPARENTS
GGG GRANDPARENTS
CH Parade Protege
CH Campbell's Gift To Parade
CH Penchant Paladin
CH Aizbel The Imperialist
Campbell's Clansman
Aizbel All About Angels
CH Fontella's Penchant Laurel
Campbell's Raz-Ma-Tazz
Edris Ooh La La
CH Parade Precipitation
Am CH Gregella Copyright Caliber
Temar's Attention Please
Gregella Lovable Licorice
CH Parade Don't Rain On Mine
Temar's Bold And Brassy
Parade Don't Pass Me By
CH Parade Phacelia
CH Le Fleur Boomerang To Parade
CH Marsden Black Knight
Marsden Tom Foolery
Marsden Wish Uponastar
CH Parade Noelle Troy Le Fleur
Troymere Man Affirmed
Parade Pillage And Plunder
CH Parade Pillage And Plunder
CH Penchant Parsifal
Penchant Paladin
Fontella's Wylde Parsley
CH Fleur de Lis Noreen Noir
Vanart's Good Grief
Fleur de Lis Jennifer Noir
Am Can CH Tanzen Muffin's Dream
Am CH Designer Show and Tell
CH Parade Kiss And Tell
CH Le Fleur Boomerang To Parade
Marsden Black Knight
Parade Noelle Troy Le Fleur
CH Bar King's First Kiss
Wilhoit's Whoodeni
Bar King's Scintilla
CH Designer Fancy Dancer
CH Designer Flashdance Man
Amulet So Divine Chaud Chien
Beaucaniche Cupid's Raven
Goldara's Miss Personality
Roses Iridesence Of Goldara
CornleacrOft Lady Bird
Am/Can/Int CH Tanzen Private Label TP
CH Tanzen Private Reserve CD
Mckernan Ragtime D'right Stuf CD
Revelstoke Reveille
Mckernan Ragtime Ebony I's
Tanzen Liberated Lady
Mckernan Karbon Kopy
Tanzen Surely You Jest
CH Wildways Barking's Babette
CH Wilhoit's Whoodeni
Penchant Paladin
Fontella's Alpine Boxthorne
CH Bar King's Scintilla
Cinbren Cherwilene Mirage
Bar King's Qiana