My Rusty died on November 10, 2000 after a short illness.
He will always be remembered and loved.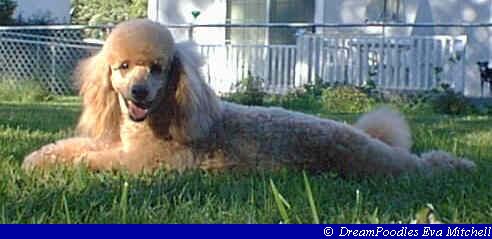 This is Rusty, September, 1997.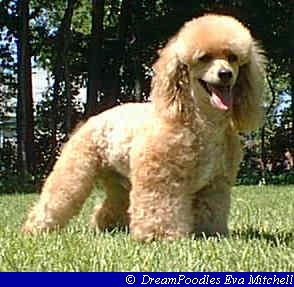 This is the story of Rusty,
who was rescued from the snow in Minneapolis in the spring of 1997.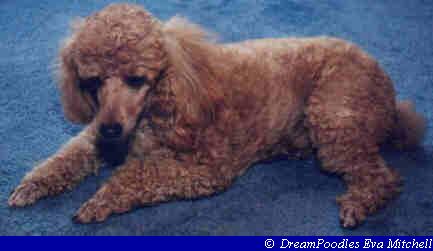 Rusty was found in Minneapolis April 10, 1997 in freezing weather, snow on the ground, and had frostbite.
He was deemed unadoptable by a local no kill rescue.
I walked into an adoption day in June. They were still trying to adopt him at that point. It was late in the day.
I always would stop by to say hello. The lady was busy.
Here was a red or dark apricot mini poodle.
I walked up and said, hi fella, what are you doing here?
He immediately raised up his front legs and asked to be picked up. I did.
He put his arms around my neck and hung on for deal life. I loved on him and petted him.
The lady turned around and said, ever so quietly, that dog bites.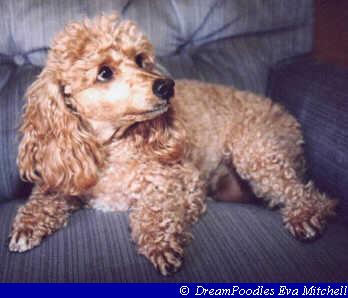 I laughed and told her he wasn't planning on biting me. He had already killed me with kisses.
We sat down and I held him for an hour and learned his story.
Well, he was also dog dominant.
Now, I had a husband and several little dogs at home.
One of those was our sweet old lady Muffin who was very sick and one was our little tiniest Candy who is blind.
I didn't need a dog that bit men and was mean to little dogs.
So, I went home. I told the lady that I would post his story to the net, and to contact me if they didn't find a home for him.
Well, I didn't hear and decided that he was finally adopted.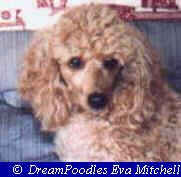 A month later, July 12, they called me to say that he wasn't staying adopted.
So, they asked me to foster him.
I told them my situation hadn't changed.
Then I made a really Big Mistake.
I told Bob.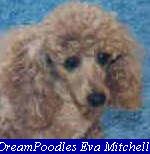 The rest is history.
Bob made me go and get him.
He and Bob had some disagreements that first week, he snapped at Bob three times.
When I brought him home, I introduced him to everyone in the back yard and explained that Candy was Much Favored.
He observed that she had the favored lap status (dad's lap and Dad's pocket and his pillow).
Candy had him on his back within 24 hours.
He is a much loved addition to our family.
He chose us and figured out on his own what it took to be a member of our pack.
Of course, he had some guidance from all of us.
He didn't know how to play at all.
He would sit and watch us play with Taffy and finally figured out how to join in.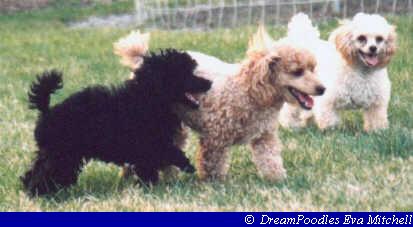 Angel, Rusty, and Taffy playing in the garden
I don't know exactly where he has been.
He has a beautiful heel.
He walks with absolute attention to my left knee, not with his face cocked up to mine so he is out of position, but watching me constantly.
So, I started him in beginning obedience.
I don't think he will be bored.
He adores doing whatever it is that I want to do.
I want to build his confidence a little bit by doing things I can quickly praise and encourage.
We will learn what he doesn't know (he doesn't do a good job of sitting automatically).
He does have a straight front unless I manage to ruin it.
I hope to get him into competition obedience eventually.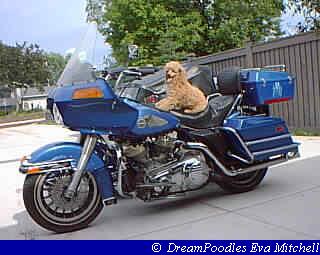 Rusty on Bob's Harley Davidson waiting to go for a ride!