Puppies & Re-home Poodles Available
From time to time we do have puppies from our own breeding. We also do occasionally have adult dogs or Champions who are being rehomed for various reasons. All animals are available to approved homes only.
Please email me for an application as I will not discuss adults or puppies with you until I have an application in my hand. I require you to provide me with 2 letters of recommendation with one from your current Vet if possible and one from your groomer if possible. If you have never owned a dog, then ask me who would be acceptable references. I am looking for 25 words or less stating that you would provide quality care and love to a poodle needing a good home. I also will ask you for two personal references and will speak with them on the telephone. I may also require a home visit. Please understand that we are looking for FOREVER homes and reserve the right to REFUSE any adoption that I believe is not in the best interest of the dog for whatever reason, and I don't need to give you a reason. Any poodle I own or breed or rescue is my responsibility to place in the best home possible. All homes must be better than my home or they won't be placed.
Pet owners are all encouraged to take their puppy to at least one eight week obedience training class. We do retain the right to advertise any of the DreemPoodles who have obtained titles and to also publicize results of any testing done on any poodle bred here at DreemPoodles. We encourage all puppy owners to publish any test results with OFFA.ORG but do not require puppy buyers to perform any testing.
We do ask that puppy buyers register the puppy's DNA (using a cheek swab) with the OFA foundation. We support the Poodle Club of America and the Canine Health Foundation Center (CHIC).
All testing is listed at http://www.offa.org.
Because of animal rights activist, we do not publish or reveal the location of my home unless you are an approved applicant. I love my poodles and prefer to keep them safe. We are located in Northern Indiana, about 2 1/2 hours east of Chicago.
And finally...
I do NOT ship my puppies anywhere. You need to meet me and I may visit your home before you are allowed to adopt a puppy. Delivery may be arranged at owner's expense so I may visit your home if you can not travel to my area.
---
Puppies Available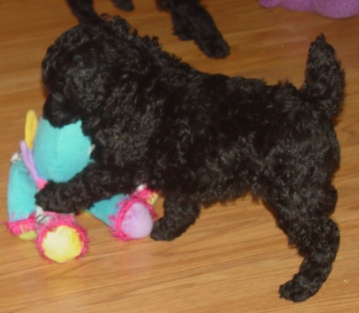 At this time, we do have puppies available.
Ch Klasyk Dreem From Maestoso (CHIC) X Ch Dream Class Monlight Sonata (CHIC)
There is a girl available from this litter to an approved home. This litter is at Klasyk.
Contact me regarding either litter.
CH Dream Simply Designer Class CD RE CGC VIP-VC (CHIC) x Dreem Klasyk Cause For Kindness (CHIC pending)
There is a girl available from this litter to an approved home. This litter is at Dreem.
Contact me regarding either litter.
---
Dreem is located in Northern Indiana, about 2 1/2 hours from Chicago.
Klasyk is also in Northern Indiana.
Puppies from Dreem are sold with microchip, shots appropriate for their age, receive socialization, are crate trained and early house training has been started, but of course is not complete, and are vet checked at approximately eight weeks old.
Puppies from Dreem are evaluated for temperament and conformation.
Please read the beginning of this page for requirements for buyers of DreemPoodles.
If you are interested in Miniature Poodle Puppies, you can visit:
Maestoso Poodles in Northern Illinois
Taysa Poodles in Minnesota.
Swag Poodles also in Minnesota.
or Handi Skorich in Indianapolis.
If you are interested in Toy Poodle Puppies, please visit:
PicketsPoodles in Minnesota.
updated 3/13/2011